Awesome Auger is one of the unreleased toys from the second year of the Centurions toy line. It was featured in later episodes of the TV series.
In universe, Awesome Auger is an Assault Weapon System for Jake Rockwell. Its major feature is a large drill attached to a tank-like body, which Jake can use to penetrate the surface of the earth. Awesome Auger's other accessories include a sonar shredder and another weapon whose name and function are unknown. As with Wild Weasel, Jake can use Awesome Auger in sitting or prone positions.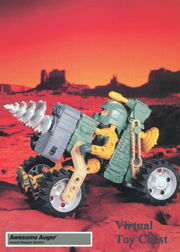 Ad blocker interference detected!
Wikia is a free-to-use site that makes money from advertising. We have a modified experience for viewers using ad blockers

Wikia is not accessible if you've made further modifications. Remove the custom ad blocker rule(s) and the page will load as expected.